This month, we are beyond excited to be hosting The Free Radicals and the Bristol premiere of their improvised science comedy show, Schrödinger's Hat. Ahead of the double bill at The Room Above theatre, we sat down with the group's cartoon mascot, Bradley, to get the scoop on the show.
Hello new cartoon friend. Who are you and what are The Free Radicals all about?
Hi there, I'm Bradley Radical, the friendly face of The Free Radicals, an improv troupe based in Reading.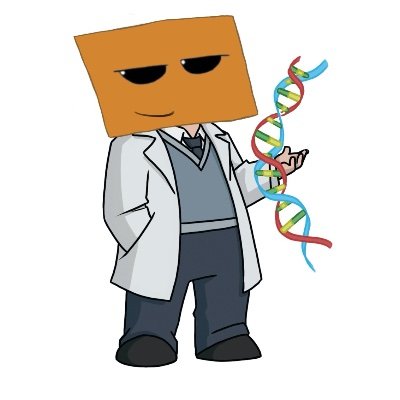 The Free Radicals formed out of a group of improvisers who attend the "What's The Game" drop-in improv classes. The venue for the classes also hosted the local chapter of the British Science Association (BSA) and we learned they were looking for science-inspired events for British Science Week 2017.
Dave, founder of the troupe, pitched an idea to the BSA: an improv show based on a talk from a local researcher. They loved it. So, a team of willing improvisers was assembled from the class and we performed the show Schrödinger's Hat for the first time in March 2017.
Feedback from the first audience, speaker and players was positive and we've been going ever since.
'Schrödinger's Hat', great improv pun title. What motivated you to make this kind of show?
The term "alternative facts" had recently been coined around the time we started and was being used a lot to disparage evidence-based journalism. Dave's background is in software engineering and he was keen to showcase legitimate science and technology research in a way that would be accessible to wider audiences. Bringing in a guest speaker to provide a short talk for the improvisers to riff off of seemed like a great way of achieving this goal.
The "Schrödinger's Hat" of the title came about as we tell the audience that the physicist Schrödinger would often lecture whilst talking through his hat. This meant that what they heard was simultaneously true and false- a joke that chimes well with the themes of 'alternative facts'.
What do the speakers think about your performances based off their research?
When we first started, we were concerned that we might accidentally cross a line and upset our speakers. However, we have had a unanimously positive response. We and the speakers see two main upsides to how we treat their research.
First, our audiences tell us they understand and remember a lot more about the talks than they were expecting. We think that, because they know we are creating sketches and stories around the research, the audience listen carefully to the speaker so they can spot the callbacks and references during the improv. In addition, the memory of a sketch or scene helps to reinforce some of the facts from the talk and even help to make sense of the science.
Second, our speakers love the way we play around with their talk. We are careful to respect the speaker and their science so it's always done in a good-natured style.
How are you feeling about doing the show in Bristol?
We're very excited. Notwithstanding that this is our first time performing outside of Reading, Bristol has particular significance for The Free Radicals.
Bristol is home to the Bristol Improv Theatre, plus loads of brilliant local troupes, and we recognise that there is a mature and discerning audience for improv. We are looking forward to seeing the reaction we get from the local community.
But Bristol also has a really strong science communication community, too. We feel that we are, in some small way, doing our bit for the public understanding of science. Finally, we are excited to be playing alongside Rising Ape Collective who have a foot in both scicomm and theatre like us.
Pretend I'm someone who absolutely hates science. Convince me to come to your show anyway.
The Free Radicals are drawn from the world of theatre, as well as STEM (science, tech, engineering and maths), so you can be confident you're going to see a show that you'll find funny at the very least. Our style is a mix of short games and long-form improv that can be both daft and clever.
When you add in the talk, you'll also get to learn something you probably didn't know before, so we hope the experience opens your mind. And at just £7 for two full shows it'll be worth opening your wallets too!
I'm sold! Thanks Bradley, we'll see you at the show.
The Free Radicals perform Schrödinger's Hat as part of a double bill with Rising Ape's Publish or Perish on Saturday 22 February at The Room Above. Book your tickets now